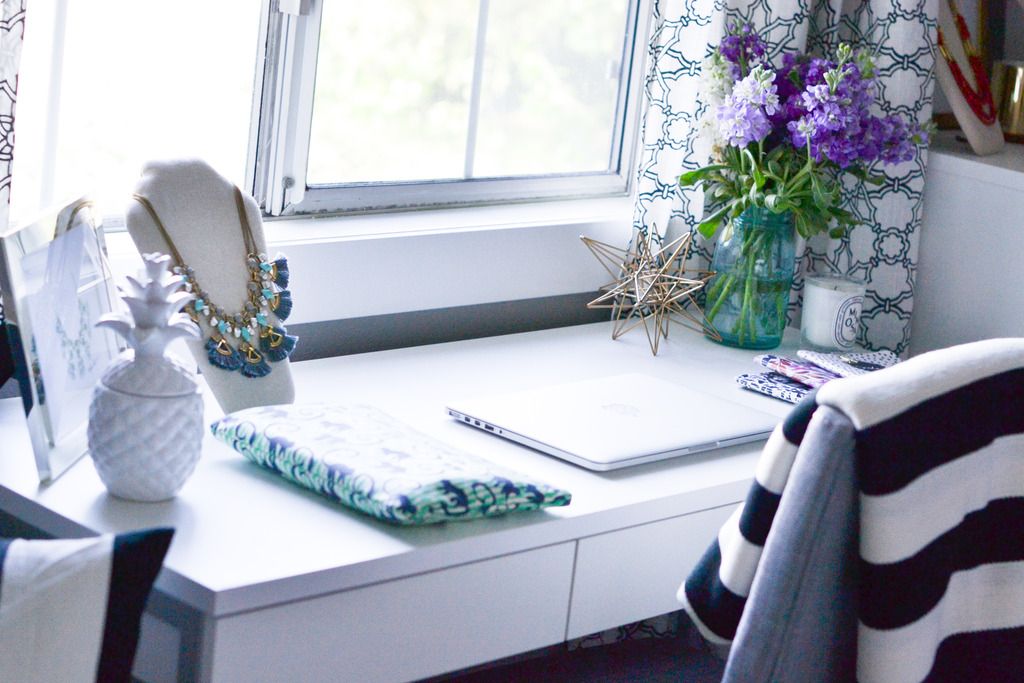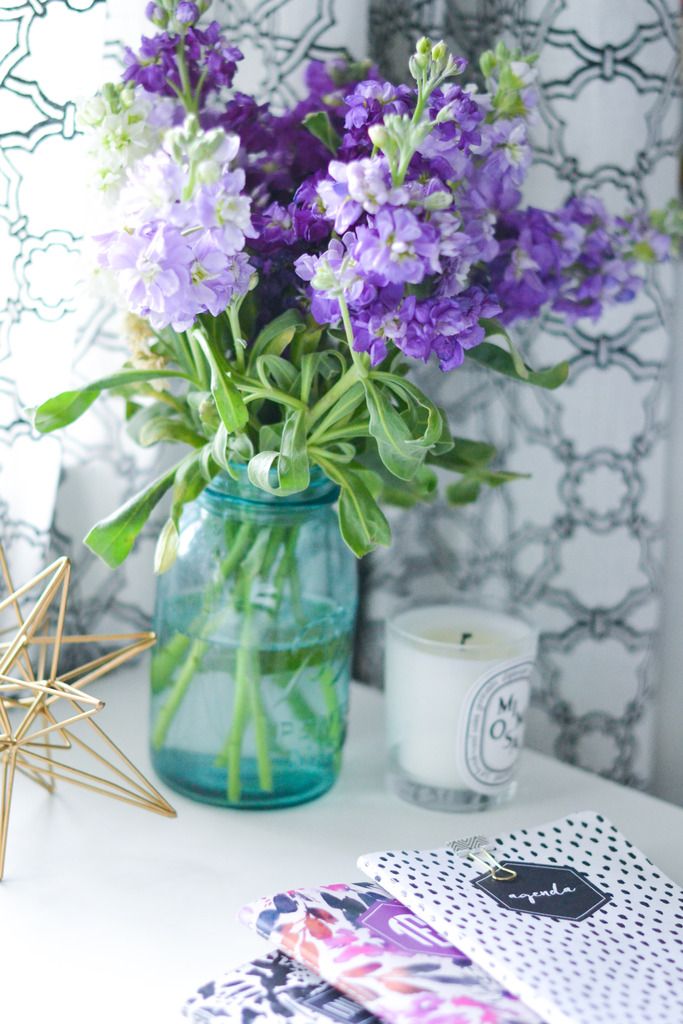 I finally made a little space in our house for my business. It's not entirely done, but when it is I will post pictures of the room. In the meantime, say hello to my little desk. It makes me so happy to sit down and work here!
Of course as luck would have it I am currently sitting on my staircase snuggling my dog as I type this. There is ONE patch of sunlight coming through a window in my home right now and Wilbur found it. So here we sit, snuggling on the staircase. Now that I have a few quiet moments I thought I'd share about something I find people are always curious about; what's it like to be a stylist and how exactly does it work. Honestly, its basically just a lot of partying and having fun! But I'll get more specific than that. As a stylist I work in two primary ways; making my own sales and coaching my team.
My average month consists of anywhere from four to six style sessions with hostesses. A style session (or trunk show) is basically a girls style night or happy hour at someones house where they invite their friends and family over! Seriously, shopping with my girlfriends has always been a favorite activity of mine. There is something that is just so much more fun about trying stuff on with all your besties and gushing over who looks fabulous in what! And combine that with snacks and drinks and its hard to beat. Plus, the hostess gets a ton of free jewels for having me over. Typically anywhere from
$100 - $300 in free product
of her choice!
I also do a lot of personal shopping. I have so many great customers that I have developed really special relationships with. These ladies will message me when they need help with something to complete their outfit, a gift for someone, or when they need me to help them track when and item comes back in stock. Having a personal shopper is such a luxury! I work with personal shoppers myself for just about anything I can because 1) it makes my life easier and 2) I get to support another business person! I enjoy helping people with personal shopping immensely. It makes me feel so special that they seek my advice and allow me to help them find the PERFECT item!
Each month I work coaching the sales team I lead. My team, the
Chic Executive Officers
, is made up of so many incredible women that I have the honor and privilege of mentoring and supporting in creating their own businesses. And I'm not saying that to be corny - I really feel lucky to be here to support them! I think one of the most rewarding things in life is helping someone achieve their dreams.
I spend time working with these business owners on my team in various ways. I maintain a Facebook group page where we communicate, post inspirational content, share ideas about the business and how to be successful, support each other and cheer each other on! I also am available for coaching calls and motivation when people on my team need it. I am there for the "things are going great and I want to celebrate with someone" calls and the "I hit a road block, help me figure out how to get around it" calls. My job is to help them find ways to be successful. While I can't walk the miles for them, I can tell them what I have found to be the best approach and offer them help and resources to make that mile seem like a breeze! I also team up with local leaders to put on trainings for our teams. We recently did one on launching your business as a new stylist! So exciting!!! I love watching people start something that I know can be such a powerful and positive aspect in their lives!
I have some administrative type items I take care of for myself - for example I check in on how my customers are doing (which is basically just an excuse for me to call and say hi and have girl talk!), watch for updates on product releases, and other things like that, but something I love about Stella & Dot specifically is that I don't have to deal with the headaches that usually come with business logistics. I am not responsible for keeping the website working, I don't ship things myself, I don't carry inventory so I don't have to manage that; I basically just get to do the fun part of it which is helping people find the right product and then squealing when they text me a pic of them wearing it!
I also spent time this week previewing our Fall Collection release (coming July 2016) and providing feedback to our design team on what pieces I loved and think will be best sellers! I love that I have a position within our company that allows me to be part of our design process.
So what else? What have you been wondering about my business and how it works? Let me know so I can fill you in!
XOXO,
Tegan